What is JapanesePod 101?
Originally, JapanesePod 101 first started out years ago as a Japanese language learning podcast.
But now it has grown into a huge Japanese language learning system of easy to understand video lessons, audio lessons, grammar lessons, quizzes, flashcards, printables, and now have dedicated Japanese instructors to help you step by step through your Japanese language journey. There are new lessons added every single week, and they cover every level, from beginners to advanced.
Essentially, it's a done for you language learning system that no matter what your level is there is something for everyone, no matter what level you are at.
Who is JapanesePod 101 for?
That is a great question! JapanesePod 101 is really for anyone who wants a systematic system that guides to step by step so that you always know what the next step in your Japanese language journey is! So whether you are a beginner just learning hiragana or an advanced learner looking to ace that next business meeting JapanesePod 101 is a systematic system that everyone can learn from.
What Is It Like Inside JapanesePod 101?
Inside JapanesePod 101 Each lesson on JapanesePod101 is focused around an audio track. The audio lessons are usually between five to twenty minutes long, depending on the level you are at. One of the great things though is that you can listen by using the website, through iTunes or through their app.
Each lesson often begins with a short dialogue or conversation in Japanese. Then goes on to explain the new words and grammar points in the dialogue.
This video demonstrates some of the lesson features…
The nice thing is that on the website, you can see lesson notes, a transcript of the dialogue, and lots of interactive features to help study the new words and phrases.
Let's go into one of the lessons in our beginner path,
This lesson teaches you how to go shopping for souvenirs. Each lesson has a really easy to understand layout. Those small buttons you see at the top have a ton of useful purposes. You can check the lesson as complete, check it as a favourite, add notes, download a pdf of the lesson notes, or even download the audio track.
Below that you also have the transcript for the main audio track. A neat feature is that you can click on those tabs to switch between kanji, hiragana, romaji and English. So you can practise reading along, no matter what your level is!
It's a pretty awesome feature that I enjoy…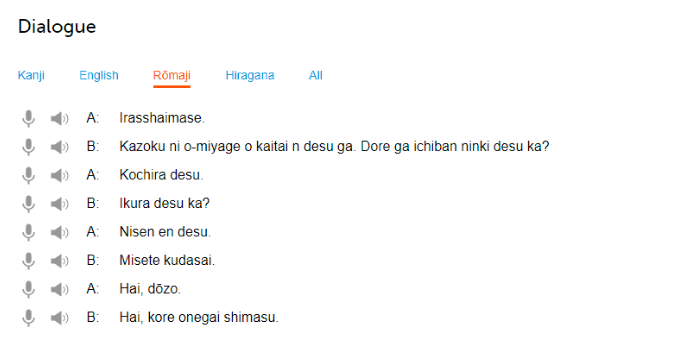 Not only that but you can also replay the dialogue word by word, so if you don't get it the first time you can keep on listening, repeating and reading it until you are comfortable with your progress.
Also if you want to really practice your pronunciation they have this awesome recorder tool! You hear the native speaker on the audio saying a phrase or thought, and then you record yourself saying the same thing. The great thing is that you are able to replay both tracks at the same time to hear the differences! This is a handy feature if you really want to improve your pronunciation.
Below, you can see all the new vocabulary words from the lesson that you are currently on. Just like with the phrases you can practice getting your pronunciation for individual words as well using the voice recorder function.
The great thing is that they give you the option and actually show you example sentences using the vocabulary you just learned in the correct context.
Oh, and you can add any of the new words to your flashcard deck if you really want to test yourself after…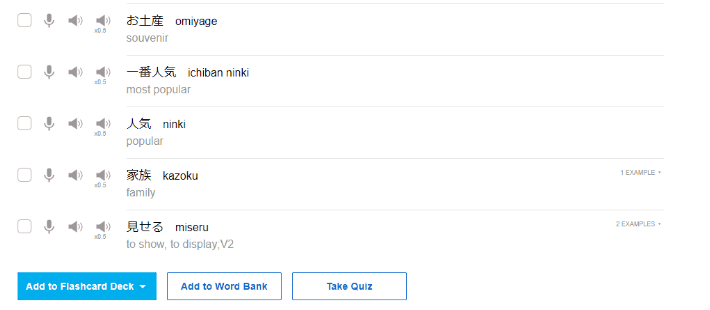 There are also grammar notes and explanations of any new language points.
They go even one step further with their Japanese language instructors. The instructors really help with any question you might have and their personality and energy for helping you with learning Japanese is great.
They will even tailor specific lesson plans for your individual goals…
JapanesePod 101 Membership Levels
Ok so JapanesePod 101 has four different membership levels. So we are going to look at each one so you can decide which one is right for you…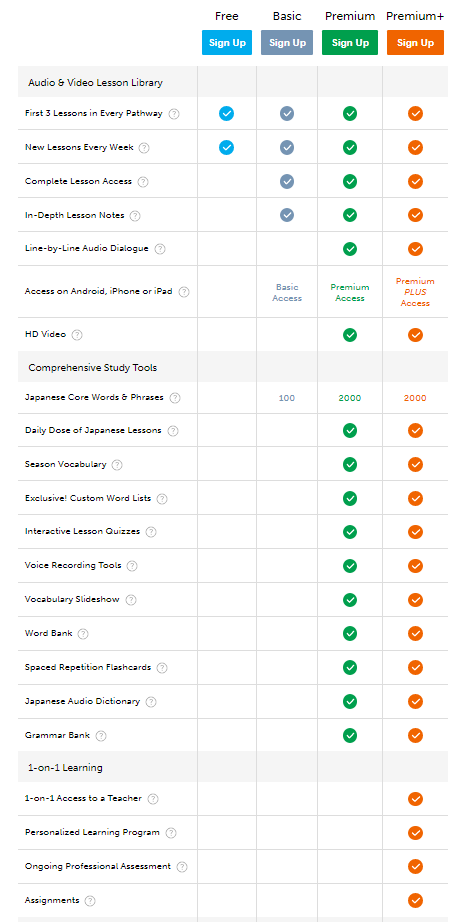 JapanesePod 101 Premium Plus
This membership gives you full VIP access to all the resources that JapanesePod 101 has to offer as well as one-on-one lessons with a private Japanese instructor. With this one on one learning you get unique lesson plans designed specifically for you, and you can ask any questions you want to your personal instructor 24/7.
It's the most expensive of JapanesePod101's services, but if you are serious about learning Japanese then this is definitely the option you want to choose.
Having this option to have a personalised instructor and lesson plans is at least worth $100 but they actually only charge $45 which is basically the cost of eating out at Denny's once a week for month(might not be healthy but hey it's delicious). If you think that sounds like a good deal then you are also going to be getting 20% off your premium plus subscription if you use the coupon found exclusively on this page…
Join JapanesePod 101 Premium Plus With Your Exclusive 20% Off Discount
JapanesePod 101 Premium Membership
Inside the premium membership you have access all of the resources that JapanesePod 101 offers but with one crucial difference…
You do not get your own private instructor nor your own personalised lesson plans…
This membership is great for those who are self motivated and already disciplined who just need the resources to go at their own pace.
It's kind of like cooking. If you know how to cook a complicated dish by watching a tutorial but don't want the convenience of someone else being there to guide you step by step then the premium membership is for you…
Now the premium membership currently costs $25 per month…
Basically the cost of eating out at Mcdonald's once a week…
And since you are disciplined and motivated I want to help you out a little, so I hope that it is ok…
So I'm going to be giving you an exclusive coupon for an additional 50% off your JapanesePod 101 Premium membership
JapanesePod 101 Basic Membership
Now this membership is great for those who are just starting out which gives you full access to all the audio and video lesson archives and basic lesson notes.
That being said though the more advanced learning tools like the full audio transcripts, line by line playback, flashcards and pronunciation tools are only available starting at the premium membership level. And with the basic membership costing $8 a month you can't really go wrong…
Join JapanesePod 101 Basic Membership
JapanesePod 101 Free Membership
Now this membership is good for those who are just looking to start out and who are new to learning Japanese but don't quite yet know what they want to get out of it…
With this membership you have access to any new lessons that JapanesePod 101 puts up but only for three weeks. So if you can consistently stay on top of these new lessons then the free membership is the way to go.
Join JapanesePod 101 Free Membership
Benefits of JapanesePod 101…
Dedicated real world conversation lessons which means they always stay up to date on the latest culture, slang and new words
A Supportive and well established Community where the instructors honestly care about the students progress and will answer any questions you have regarding any of the lessons or content you have studied
Advanced learning techniques designed for all learning styles with audio lessons, video lessons and even ebook and pdf resources where no matter what kind of learner you are there is something for you within the learning resources at JapanesePod 101
Relaxed atmosphere where the instructors create a kind and caring learning environment so you can relax, learn and have fun while doing it
Enormous lesson bank which means no matter what you are interested in there are literally thousands of lessons, so you're bound to find something that you are interested in at your level
Drawbacks of JapanesePod 101
Information overload: While JapanesePod 101 has a huge lesson bank it can be overwhelming if you don't know where you want to start
Advertising: Now while you can join JapanesePod 101 for free they keep on bombarding you with advertisements telling you to upgrade if you stay as a free member. So while it might be beneficial to upgrade your membership it is extremely annoying being reminded over and over again
It isn't really free: While you can join as a free member a lot of the resources like access to a private instructor is reserved for the higher tier memberships
Verdict: Is JapanesePod 101 Worth It?
I've used JapanesePod 101 for quite a while and I can say that for myself it is completely worth it.
JapanesePod101 is a genuine language system designed to learn Japanese online with thousands of hours of lessons, and lots of other helpful resources.
For me, having a personal instructor guide me made all the difference in my language progress using the JapanesePod 101 System
And while the price of JapanesePod 101 isn't exactly cheap it is money well spent…
So what was your biggest takeaway from this?
Let me know in the comments!